Welcome!
Roast pig prices as of 2/21/2014:

Small 205
Medium 210
Large 225
XL 232

Approx weights before the USDA pig gets cooked
Small 30 lbs
Medium 35 lbs
Large 40 lbs
XL 43 lbs
Welcome!

Store hours: Mon-Sat 10:30 am - 9:00 pm sunday 10:30 am - 7:00 pm Telephone number: (201) 439-0522

RIBS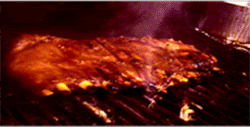 Sisig!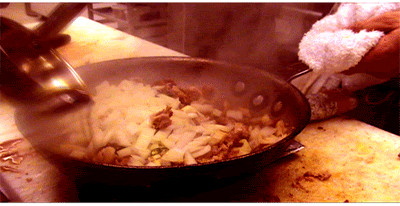 APPETIZERS
1. Lumpia Shanghai
crispy spring rolls with pork carrots celery red bell pepper stuffing and sometimes california raisins. Always a crowd favorite. Comes with a sweet and sour dipping sauce.
12 piece
2.
Fried Calamari
lighty batter rings of squid deep fried to a golden crisp reg.
3.
Fried Softshell Crabs
from Maryland soft shell lighty batter fried to perfection with mixed vegetables
4.
Turon
plantain banana wrapped in crispy spring roll with sweet jack fruit from the south pacific. A classic Philippine street food
LUNCH SPECIALS
5. Bacon with garlic rice
fried pork belly also known as "lechon kawali" or "meaty pork rind" or "fat back" served with garlic fried rice. A classic lunch comes with a sweet dipping sauce. There's also hot sauce available made by the house.
6.
Pork BBQ on a stick with garlic rice
two skewers of pork marinated in pineapple grilled with two types of BBQ sauce served with garlic fried rice.
7.
Half BBQ Chicken with garlic rice
juicy chicken on the inside but crispy skin on the outside glazed with BBQ on the grill with garlic fried rice
VEGETABLE DISHES
8. Pinakbet (pronounce: pick-knack-bet)
saute pork and shrimp with squash, tomatoes, garlic, onions, asian long bean, eggplant, bitter melon and okra.
9.
Shrimp Ampalaya
sliced bitter melon saute with garlic tomatoes black pepper shrimp. A popular health dish. If it taste bitter then its probably good for you. A similar taste to Brocolli Rabe
10.
Laing
Taro leaves simmered until soft in coconut milk green hot chili peppers and a little pork. Taste sweet yet tickles your throat from the tannins of the taro leaves. An island paradise favorite.
11.
Inihaw na Talong
grilled asian long eggplant. A great accompaniment to grilled fish ....or sometimes an awesome snack by itself.
OMELETTE
12. Torta
means omelette in Filipino and sandwich in other spanish countries. Ground pork, shrimp potatoes bell pepper filled omellete reg. $6.16
13.
Shrimp torta
meat omellete with extra shrimp reg. $6.50
14.
Talong with meat Torta
meat filled omellete with grilled and peeled eggplant
BARBEQUE OR ON THE GRILL
15. Barbeque Chicken
half whole
16.
BBQ Spare Ribs
four piece six
twelve
17.
Pork BBQ on a stick
pineapple marinated pork on a skewer each
18.
Pulled Pork Sandwich
19.
Pulled Pork Sandwich with fries and a can of coke
20.
Inihaw na Liempo
grilled pork belly marinated in garlic vinegar salt&pepper
21. Make it a "deluxe combo" choose two sides:
* French fries
* coleslaw
* corn on the cob
* garlic rice
* green Veggies sauted collard greens, kale, sundried tomato in garlic sauce
add $2.25 to your order
CRISPY OR SIZZLING SENSATIONS
22. krispy pata
pork hamhock fried to a crisp yet tender and juicy on the inside. Comes with a spicy garlic vinegar dipping sauce.
23.
Lechon Kawali
also known as meaty pork rind or fried bacon. Comes with a sweet brown dipping sauce
24.
Chicharon Bulaklak
also known as "chitlins" this is the innards of a cows intestines boiled until all the fat renders out. This is then deep fried to a consistency of fried chicken skins. This is not something for the faint of heart but none the less a favorite to some homosappiens. "Bulaklak" means flower.
25.
Sisig
a sizzling mound of goodness. Hand chopped meaty pork rind with diced onions and spicy green thai chili peppers and sometimes red hot vietnamese peppers "LABUYO". This is then toss in a sizzling pan with a sauce of vinegar soy and Philippine lemon. The smokiness of the pan the yin meets yang turns a mound of goodness to greatness. A really nice accompaniment with beer watching your favorite Philippine boxer Manny Paquiao.
SEAFOOD
26. Tilapia not your average fillet. This comes with the head and the eyes but we do take the time to de scale and trim some of the fins for you. Fried or Grilled its your call you are the boss....Sir or Maddam with stuffing tomatoes and onions
27. Flounder Mott Street style similar to the ones they serve in Chinatown NYC without the commute over the George. Fried to a crisp with garlic ginger aroma infuse soy sauce. We can place the sauce on the side if you like or even add a little heat or spice.
28. Dahing na Bangus a sweet tropical fresh water fish butterflied and deboned. This is then marinated in garlic vinegar salt and pepper. Only comes deep fried.
29. Fried Red Snapper upon request you may choose to make it "escabeche style" a sweet and sour ginger carrot bell pepper sauce.
30. Rellenong Bangus a labor intensive surgical gastronomic fish. All the meat from the fish including bones comes out through its gills and manage to keep all the skin intact. A similar way American Indians would perform "shrunken head" ceremony. The meat is then sauted in garlic carrots red bell pepper california raisins add the necessary flavorings such as soy and lemon butter. This is then deboned painstakly for your pleasure and then stuffed back into the same fish it came out from....baked to a golden crisp of course and sometimes deep fried. only 28 bucks
NOODLES
31. Pancit Palabok spaghetti size asian rice noodles with shrimp crispy chopped pork bacon in a thick garlic annato sauce. Toppings include garlic chips scallions sliced hard boiled eggs and lemon
32. Pancit Sotanghon & Canton Angel hair thin rice or bean noodles also known as "glass noodles" and another noodle flavored with coconut lo mein style. This is tossed in the pan in a garlic soy fish sauce with a spring mix vegetables of cabbage carrots snow peas. A little shrimp and chicken breast strips are included for texture.
SOUPS
33. Tinola Soup chicken, green papaya, long mild peppers, pepper leaves, garlic, ginger. Great with fish sauce mixed with lemon as a dipping sauce for your chicken.
34. Pork Sinigang Soup a tamarind sour flavored soup with taro roots pork long mild peppers and pak choy
35. Shrimp Sinigang soup shrimp with head on soup sour tamarind flavor
36. Mongo asian mung beans soup with porkrinds shrimp tomatoes and spinach or bittermelon
37. Nilaga ng Baka a soup made with SHORT RIBS cabbage, potatoes, whole black pepper corn bombs that can wake you up.
SLOW SIMMERED BRAISED MEAT gourmet
38. Beef Kaldareta short ribs bone in simmered in garlic tomatoes peppers potatoes jalapeno or seranno peppers flavored with lemon soy
39. Kare Kare braised oxtail swimming in a garlic peanut butter sauce with eggplant long beans and pak choi
40. Goat Kaldareta braised goat meat with garlic tomatoes peppers potatoes jalapeno or serranno peppers flavored with lemon soy
41. Menudo long before Ricky Martin became famous filipinos have been simmering pork meat in black pepper bay leaves and adding peppers garbanzo beans carrots and potatoes.
42. Adobo Manok chicken braised in a garlic soy vinegar black pepper bay leaf sauce. A love at first bite.
43. Adobo Pusit squid or calamari with the ink braised with garlic tomatoes and vinegar. A dish found in the far east from China all the way to Italy and Filipinos decided this was a keeper.
44. Dinogoan braised pork in garlic vinegar and the blood of the cow. A black colored dish similar to Puerto Rican blood sausages "morcillo". A favorite among the anemic yet not so squemish due to its rich iron protein cow hemoglobin content. Parental advisory not needed. Are you one of the vampires?
45. Batchoy have you ever thought of eating the spleen? Now is your chance. We can't be sure if its cow spleen or pig spleen but nonetheless we infuse lots and lots of ginger to bring out the flavor and we add a little pork to make you smile.
46. Paksiw na lechon usually whenever there is a roast pig celebration after all the necessary photos and close ups with the pig are taken, the host would set aside the head and the legs and braise it in garlic vinegar and sweet brown sauce. Bay leafs are added for aroma and subtlety. If you like roast pig skin here is your chance to taste it again in its not so crispy yet rubbery form. All the bones and knuckles are considered an added bonus.